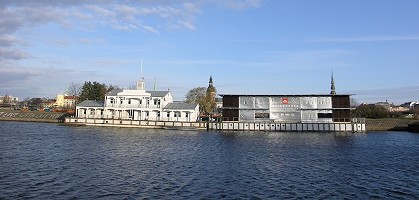 NOASS – Riga/Lativia
is a multi-facetted cultural organisation & institution, organising, among other, the Latvian Videoart Archives, as well as the annual Waterpieces Contemporary and Video Art Festival.
NOASS was not only contributing a selection of young Latvian videoart to CologneOFF 2011 – videoart in a global context, but is hosting also in September 2011 – a presentation of CologneOFF 2011 in the framework of the Waterpieces Festival (8-10 Sptember 2011)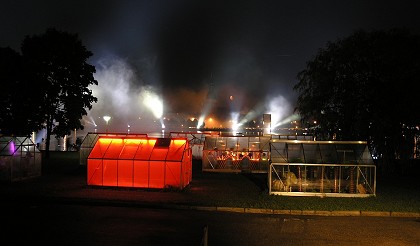 Culture and Arts Project NOASS" is a creative intelligence association that is in the eleventh year of its operating existence and is one of the oldest non-governmental arts and culture organizations in Latvia. NOASS' goal is to participate in the formation of the Latvian and European cultural environment.
In the main, we support the realization of contemporary arts projects in an urban environment, making art part of the daily lives of residents of Riga and visitors to the city. We nurture the creativity of society and individuals. Furthermore, for several years now we have participated in the planning and programming of the contemporary arts forum, "White Night", the annual "Riga City Festival" and the "International Museums Night", as well as realizing a range of individual projects.
Prior to now, we have produced arts events linked to moving images as part of international cultural events like the "French Spring" (2007) and the "German Culture Month" (2008).
One of the most attractive projects we have been involved with is the "Garden of Light" which was created in 2008 with the support of the AB Foundation and Riga City Council and featured the participation of artists from Germany and Latvia. This art project proved to be extremely popular with viewers.
The partnership between NOASS and the New Riga Development Company resulted in the establishment of the Naive Art Museum of Latvia on Andrejsala in the autumn of 2006. This has provided the general public with an introduction to the work of masters of Naïve art in the context of modern art.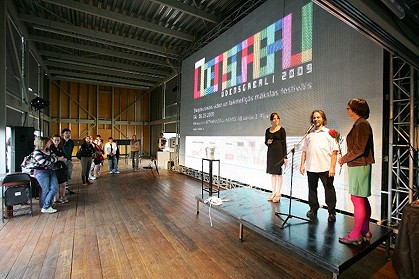 "Waterpieces" Contemporary Arts and Video Festival
The "Waterpieces" festival dates back to 2001. It's an annual festival of video and contemporary art which consists of a competition for video works, as well as screenings of international programs thus providing a comprehensive insight into the latest works of contemporary art linked to the moving image. more >>
http://noass.lv/udensgabali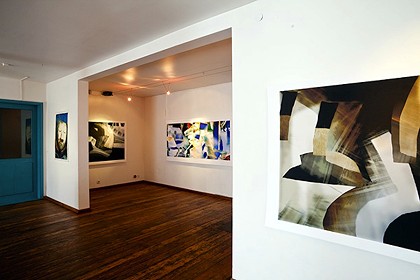 Noass Video Art Archive
The Latvian Video Art Archive has been created as the only national video art database. It is available for free and covers the entire history of Latvian video art from the late 1980′s through to the present day. The platform for the Latvian Video Art Archive  Database is the videoteque which has been established and built up over a number of years by Culture and Arts Project NOASS. Among the works to be found in the videoteque are:
• Latvian-French video art festival (1989-1995) archive (from the collection of art historian, Laima Slava); • Artists' video works collated by exhibition; • Artists' video works submitted individually from personal collections (1985 – 2009); • Selections of works compiled from the competition archives of "Waterpieces" international video and contemporary art festivals (2001- 2008).
To ensure that the collation of information is as complete as possible, materials are also drawn from other Latvian video art festivals ("2ANNAS", "Ahūns"), diploma works and course works by students from Jānis Rozentāls Art High School, video works by students from the Latvian Art Academy, as well as a collection of those created by Culture Academy students. All of the works submitted have been reviewed by a group of experts. If the works are deemed to be good enough for inclusion in the archive, they are then systematized and archived. go to the archive >>>
http://livepage.apple.com/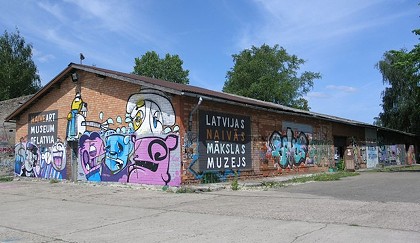 Naive art museum of Latvia
The Museum operates during the summer season (from May until October).
Thanks to the partnership between Noass and the New Riga Development Company, the Naive Art Museum of Latvia opened on Andrejsala in the autumn of 2006.
The Naive Art Museum of Latvia has defined its operating goal as being the collection of works of naïve art, as well as their preservation, study and promotion. The Museum's task is to preserve the cultural and historical heritage of naïve art for future generations and to use it to educate the general public. The Museum devotes particular attention to the identification and preservation of works by contemporary Latvian naïve artists including painters and sculptors and the establishment of core exposition of works at the Museum.
Based on the material that has been collected and researched, the Museum is implementing a wide ranging complex of educational measures. Since 2007, the Museum has focused on promoting works by Latvian naïve artists abroad (Fest Naive 2007, Fest Naive 2010 – Moscow). In 2007, the Museum was awarded the status of a State accredited museum. In February 2009, "Culture and Arts Project NOASS" was accepted into the Ministry of Culture's Association of Professional Culture Organization which gives us the chance to apply for State grants to ensure public access to the Museum's collection. more about museum >>
http://noass.lv/museum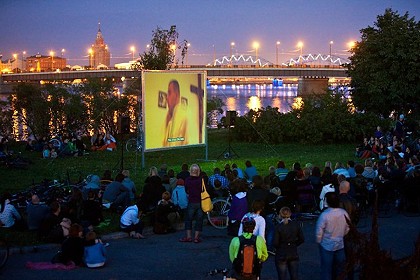 Noass and Betanovuss
In 2008, NOASS celebrated the 10th anniversary of its launch. We marked this anniversary with the reconstruction of the BETANOVUSS floating gallery. With support from the construction company, "RE&RE" in 2008 NOASS has continued to establish a non-commercial contemporary culture centre whose centre of activity is based at two river boat platforms, "BETANOVUSS" and "NOASS".
"BETANOVUSS" is a 197 m2 large floating stage with a 57 m2 amphitheatre where residents of Riga can see "small form" theatre exhibitions and contemporary dance performances and where various art genres freely interact.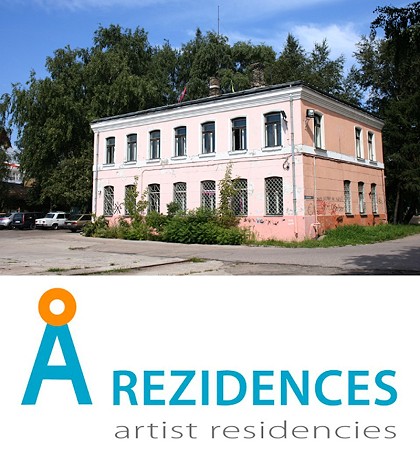 A.Residence – Artist – In – Residence
In recent years, NOASS has expanded the locale of its activity to the former Port of Riga territory at Andrejsala. Since 2006, this has been the home of the Latvian Museum of Naïve Art and in the spring of 2009, we started work to create a residency house in this wonderful district which has become the heart of alternative culture in Riga. Andrejsala provides a vibrant environment where various exhibition openings, concerts and happenings take place. It's a place where one can easily make friends among the local artists.
The residency's goal is to provide artists with the chance to discover Riga, one of region's most beautiful cities and its eclectic cultural life, thus inspiring them to create new works in the realm of visual arts, art criticism and literature. We also hope to develop the residency centre as an international meeting place where art professionals will have the chance to get to know one another, exchange ideas and create new joint art projects. Leveraging Riga's geographical advantages, it is hoped to give artists the chance to discover the other Baltic States and their cultural life (Riga is sandwiched in the middle between Tallinn in Estonia and Vilnius in Lithuania).
• Duration: A week to several months.
• Founded: 2009
• Discipline: Visual Arts , Curating/Research, Media Art, Video art, Photography, Performance arts, Literature, Culture operators.
• Target group: International, National
• Deadline: 2 months before the start of the expected Residency. Applications can be sent all year long.
more about Residencies >>>http://livepage.apple.com/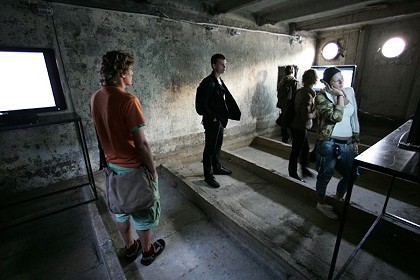 International Cooperation
Until now, "Culture and Arts Project NOASS" has primarily focussed on supporting contemporary culture environment and experimental projects in Latvia, but for its goal in 2009, it has defined its goal as the integration of Latvian culture into the overall European cultural events cycle.
Since 2007, "Culture and Arts Project NOASS" has operated within the TEH- Trans Europe Halles – European Network of Independent Culture Centres. TEH supports a range of creative initiatives in the European Union and has a membership comprised of 50 culture and arts organizations from 26 countries.
Since 2008, "Culture and Arts Project NOASS" has functioned as a EVS – European Volunteer Services sending and hosting organization, thus promoting the mobility of young people who are interested in cultural and arts events among various public organizations. Also, NOASS is registered in PADOR database which is managed by EuropeAid. PADOR or "Potential Applicants Data Online Registration" is a recent applicant processing system introduced by European Commissions through EuropeAid to understand and maintain extensive information about NGOs requesting funds from it for collaboration projects with worldwide organizations.
Culture and Art's Project NOASS
11.Novembra krastmala 35, Riga, LV-1050, Latvia
Phone/Fax: + 371 67703240
Home page: www.noass.lv