CologneOFF 2011 in Rotterdam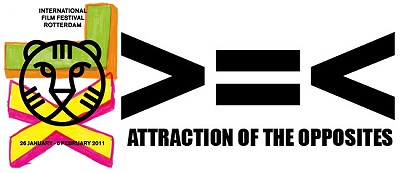 International Film Festival Rotterdam
ATTRACTION OF THE OPPOSITES
26 January – 6 March 2011
CUCOSA, Raampoortstraat 16, 3032 AH Rotterdam
'Attraction of the opposites' brings 11 professional and international galleries to co-exist under one roof. The project will be presented in the space of Artists Initiative CUCOSA in Rotterdam during 3 major events: International Film Festival Rotterdam, Art Rotterdam en Rotterdamse Museumnacht.
The project is part of IFFR's XL jubilee program. Especially for this occassion there will be two compilations of Dutch art videos presented with work by Serge Onnen, Jan van Nuenen, Jasper Scheepbouwer, Adonis Migkos, Martin Hansen, Anne Hartog, Alexander van Merle, Toine Klaassen, Cindy Jansen, Gil & Moti and Duro Toomato. In addition 6 International video art festivals are invited to contribute short video programs: Festival Miden (GR), CologneOFF (DE), Art:Screen (SE), FiXc (FI), Black Duck+Red Nomade (SP/ARG) and the global festival ART BY CHANCE.
Curator: Kiki Petratou
Organizers: Bob Smit, Hans Bakker, Kiki Petratou
##

CologneOFF 2011 selection
Attracted by the opposite?
Selection curated by Wilfried Agricola de Cologne
CologneOFF 2011 in Rotterdam Attracted by the Opposite?
Do people really feel attracted by the opposite? Black does not exist without white, good not without bad. The one is depending on the other. If an opposite is existing, at all, the existing "standard" is being defined via its opposite, which is setting the actual values, the relations between each other. Being attracted by the opposite is actually no more than searching consciously or unconsciously for the "whole", an attempt to find an unity combining and relating the two opposite poles to each other. An uptopia? The selection of videos is spotlighting not only the phenomenon of the duality from different points of views and positions, but also the resulting relativity.
Selected artists
Mihai Grecu (Romania) – Congulate, 2008, 5:56
Giuseppe Girardi (Italy) – Stranger, 2008, 2:54
Ascan Breuer (Germany) – "The Kurukshetra-Report", 2009, 8:00
Jamie Waelchli (USA) – Little Pleasures, 2007, 11: 00
Alex Lora (Spain) – (Buried) Over The Roofs, 2009, 11:00
Mikhail Zheleznikov (Russia) – Together, 2010, 4:20
Jeffrey Anderson Bliss (USA) – Telephone, 2009, 4:55
Rosa Futuro (Italy) – The Future is Rose, 2008, 8:00
Angela Washko & Chris Skinner (USA) Washko's Personal Record, 2010, 2:14
Pablo Fernandez-Pujol (Spain) – 142-143 – 2010, 2:10
Emeka Ogboh (Nigeria) – [dis] connection – 2009, 1:58
Sai Kua Huan (Singapore) – Space Drawing No. 5 – , 2009, 1:02
Doug Williams (USA) – Back & Forth, 2009, 2:42